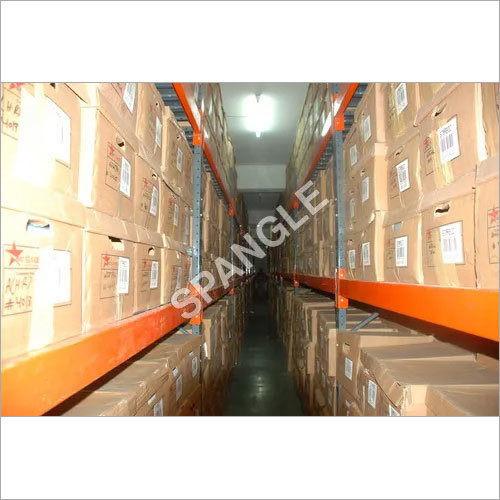 Pallet Racking System
Product Code : PRS
Product Description
We are a noteworthy organization, engaged in offering an enormous range of Pallet Racking System in diverse specifications as per the requirements of our clients. Designed and fabricated by our experts in sync with the international norms using optimum grade basic material and advanced technology, our racking system is widely used in various industries for the storing of objects. Stable robust, flexible and expandable, our Pallet Racking System is available at highly competitive price.
Maximum storage capacity making use of maximum space can be achieved with drive-in, drive-through systems. It is an ideal system for storing large quantity of similar products. While, drive –in and double access systems has continuous racking lanes with a single load and retrieval aisle. In order to perform loading and unloading, trucks drive down each lane into the racks. First in last out [FILO] is the principle operation of drive-in racking. This is why, it is suitable for a kind of product that is stored in sufficient volume to require several lanes to ensure stock rotation. During drive-through racking operations, access aisle is positioned on either face of the drive block. Drive-through racking gives a benefit of independent execution of picking and replenishment, allowing first in first out [FIFO] principle to be operated.

» In comparison to conventional static racks, pallet racking can increase storage capacity by over 100%, without losing selectivity. The double deep system, a derivative to the selective pallet, call for a specialist reach truck or an attachment fitted to reach truck. As the achieving increases in capacity of up to 30% above the former, only half of the total pallets are quickly accessible. This system provides a way to increase the capacity of a warehouse or is beneficial when alternative systems, like the Drive-In which require huge homogenous pallet types, are not possible.

» Heavy duty and strong pallet racking system that can be used on daily basis.

» The construction design is simple, with a few components and welded frames.
Pallet Racking System Features :-

a. Attractive design.
b. Robust construction.
c. Dimensional accuracy.
d. Durable finish standards.